WAIAU AREA SCHOOL
School Bus Transport Information
Transport Entitlement Zone (TEZ) 
Waiau Area School
The brown shaded area is years 1-8 for primary school students for school bus transport to Waiau.  The brown and purple areas cover the TEZ for high school from years 9-13.  This encompasses the the full primary zones for Waiau Area School and Hauroko Valley Primary plus about the area around Merivale and Scotts gap that are part of the Otautau Primary zone along with the Ohai area which is part of the Takitimu Primary zone.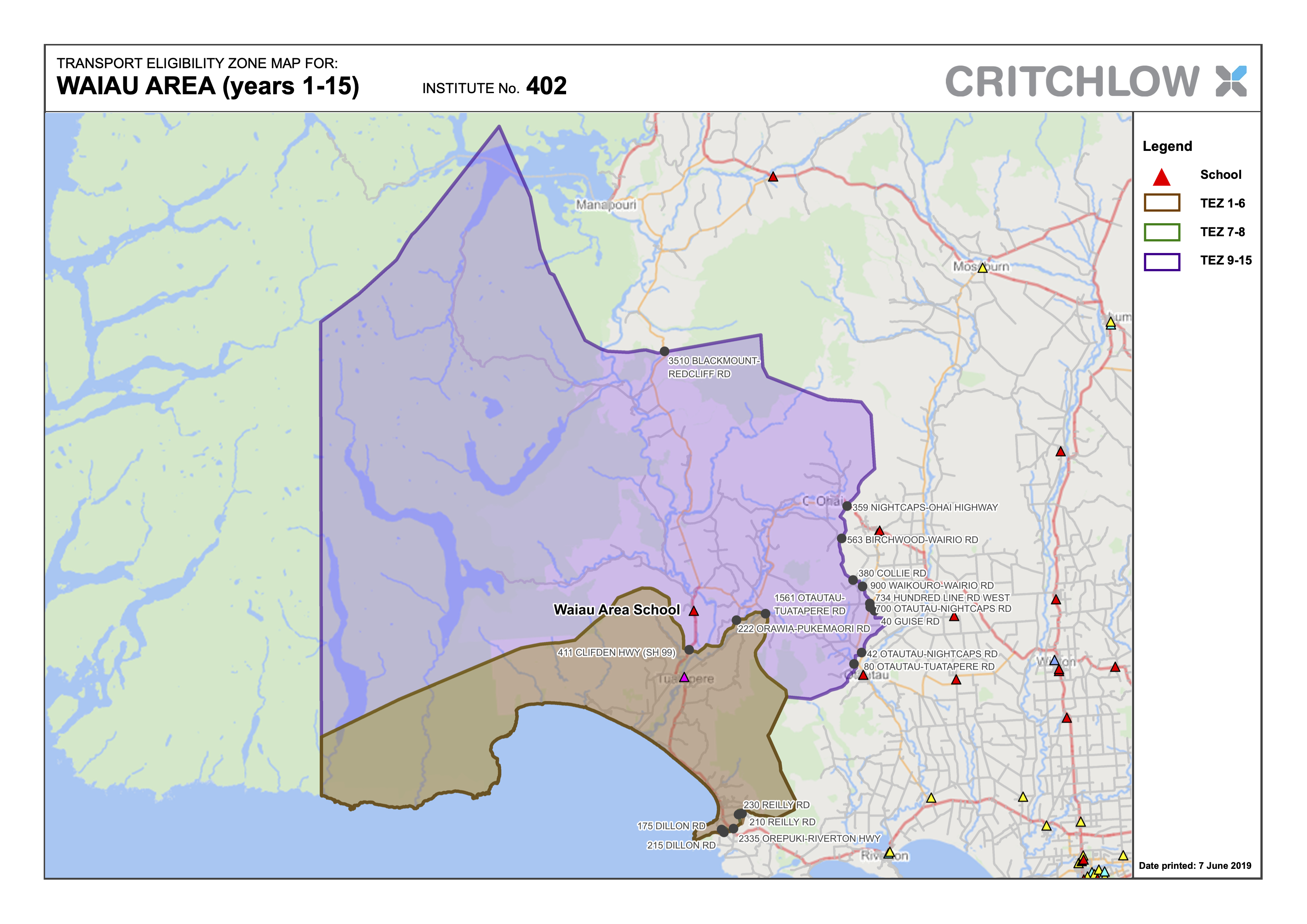 SCHOOL BUS ARRANGEMENTS FOR 2022
This year will see some changes to our school transport as the Ministry of Education transitions to a new contract with bus operators. The school bus operator is changing on all of our routes.
We are working closely with our school bus operators and the Ministry of Education to ensure that the transition to the new school bus operator goes well.
To make sure that the start of the school year goes as smoothly as possible, please familiarise yourself with the information below. As always, please either stay with your children while they are waiting for their school transport in the morning or keep in contact with them to make sure that they are picked up safely.
School bus routes, timetables and bus stop information
Please check in with WAS' bus controller Miss Clare Robinson on 021 031 8134 or email: cr[at]was.school.nz if you need to confirm times etc.
Eligibility for School Transport Assistance
We often get questions about whether students qualify for school transport assistance i.e., a place on a school bus.
The Ministry of Education has three criteria that students must meet in order to qualify for school transport assistance. They are:
     1. The student must attend their closest state or state-integrated school;
     2. The student must live more than a certain distance from the school:
               – Years 1-8: At least 3.2 km
               – Years 9-13: At least 4.8 km
     3. There must be no suitable public transport options.
The Ministry of Education has a handy video on their website that explains the eligibility criteria for school transport assistance.
Responsibility of Caregivers
To ensure a safe environment for bus loading and unloading caregivers should:
     ● not park in bus bays;
     ● adhere to the speed limit (20 km/h while passing a stationary school bus on either side of the road);
     ● try to eliminate the need for children to cross the road;
     ● ensure that children get to and from the bus stop safely; and
     ● teach children to not run across the road.
Please note: if you currently have a private arrangement with your bus operator, you will need to contact your bus operator to confirm that your arrangement will continue in 2022.
Meeting with Students and Face Masks:
At the beginning of the year the bus controller and principal will meet with the bus students to confirm bus behaviour expectations. Sometimes the bus drivers join us. For our new students a bus contract will be provided.
It is mandatory for our 12+ students to be wearing a mask on the bus. Whether we like it or not – that is the rule. It is expected the student carries their own face mask each day.
Our new bus companies are Go Bus and Southbus Ltd.
If you have any queries about our school transport, please contact Clare (bus controller) or myself.
Kind Regards
Andrew Pardoe-Burnett
Principal
022 475 9607
principal[at]was.school.nz
SCHOOL TRANSPORT
CHECK YOUR ELIGIBILITY