WAIAU AREA SCHOOL
School Bus Transport Information
Transport Entitlement Zone (TEZ) 
Waiua Area School
The brown shaded area is years 1-8 for primary school students for school bus transport to Waiau.  The brown and purple areas cover the TEZ for high school from years 9-13.  This encompasses the the full primary zones for Waiau Area School and Hauroko Valley Primary plus about the area around Merivale and Scotts gap that are part of the Otautau Primary zone along with the Ohai area which is part of the Takitimu Primary zone.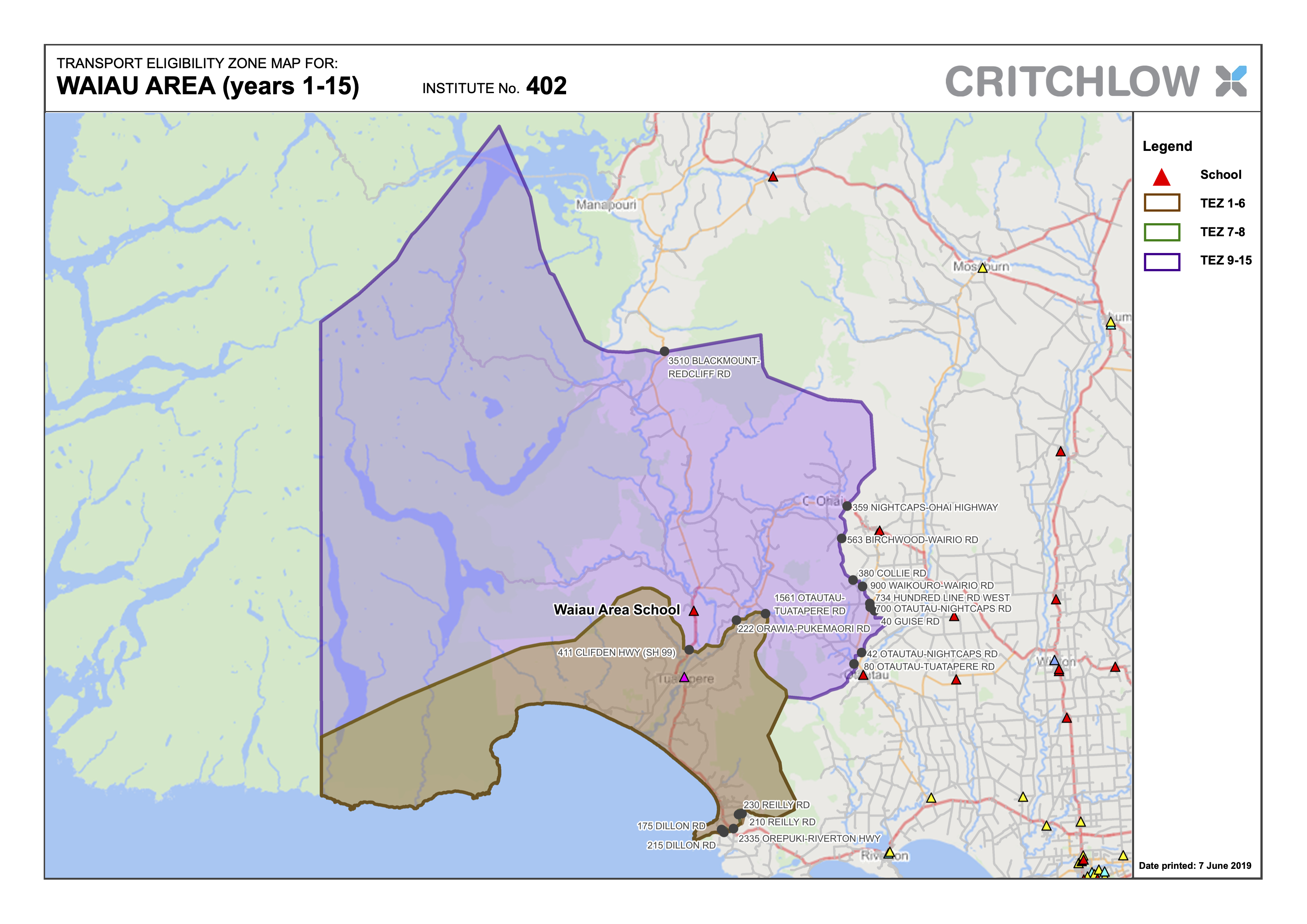 Waiau Area School Bus Transport
Waiau Area School operates six separate bus routes, three of the routes are also joint bus routes with Hauroko Valley Primary School based at Clifden. The buses are operated by Brazier Motors who are contracted by the Ministry of Education to provide bus services within the Waiau Area School and Hauroko Valley Primary School Transport Entitlement zones (TEZ).
Due to Waiau operating as an Area School providing education from year 1-13 it has two different bus entitlement zones. The Primary zone is smaller where the high school zone encompasses the Hauroko Valley Primary zone, also parts of Otautau Primary and the Takitimu Primary School zones.
The school has a designated Teacher assigned to the role of Bus Controller, their job is to act as a liaison between the bus company, schools and families around bus transport related issues.
The current Bus Controller is Assistant Principal Clare Robinson who is the head of the junior school.
Any questions regarding bus transport matters should be directed to the bus controller in the first instance.
Due to the various Ministry rules, the bus routes are restricted on specific routes where they operate. As the school receives new enrolments bus routes can be extended by application to the Ministry if at least four extra eligible children are involved on an existing route or new routes established if at least 8 eligible children are requiring a bus service where there is none. At times
some families find they may need to drive their children to the closest bus pick up point. If this is the case depending on the distance needing to be travelled, families may be eligible for paid transport assistance called a conveyance allowance. To receive this a form needs to be completed by the families along with the school. Waiau Area School has a bus policy and expects high standard of behaviour by students on the bus, breaches of bus standards may result in the loose of privilege to travel on the school bus. Parents should ensure that they have their children at the bus stop before the bus arrives at the pickup point.
Above on the orange tabs are various informative documents around the school bus transport. These include the various bus routes, Ministry rules around how they are operated and conveyance forms
to assist families.
SCHOOL TRANSPORT
CHECK YOUR ELIGIBILITY