Our Environment
Waiau Area School is a Year 1 to 13 co-educational, composite Area School located in Western Southland; 81km west of Invercargill. It is the only Area School in the Southland Region.
Location: 47 Orawia Road, Tuatapere, SOUTHLAND 962
Telephone: +64 3 226 6285
Email: admin@was.school.nz
School Hours: M-F: 8:50am – 3pm
Learn By Doing
At Waiau Area School we work hard to ensure that learning happens for all students, that learning is accurately measured, that evidence is gathered, and most importantly that students and their parents know where they are going next in their learning. Students relish the chance to experience success. It helps establish a desire to learn and builds important learning skills like persistence.
The staff of Waiau Area School have developed curriculum schemes from Year 1-13 that reflect the diverse needs of our students.
Free Lunches in Schools (FLIS) is starting on Monday 08th June 2020. WAS has been fortunate in having this initiative approved where every student has the opportunity to receive a free lunch every day.Things to Note: This means that all students will be able to...
read more
Live to LEARN, LEARN to Live
A Word
From Our Principal
" Many thanks again for all your valued support. Loads of areas which are very much appreciated by us all here at WAS: helping out at athletics day; supporting swimming; helping out in the school and chatting with your child's teacher; paying for things in the office; helping out at Koha Kai; donating old uniform and clothes for others; supporting your child/ren at home with extra reading, writing, maths and life skills; keeping in touch texting; dropping off and picking up your child with consistency and the list goes on – well done. It's notan easy job being a parent/caregiver and juggling life's commitments. "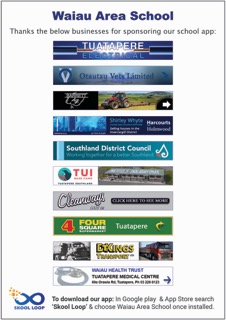 Get In Touch
Location: 47 Orawia Road, Tuatapere, Southland
Telephone: (03) 2266285
Email: admin@was.school.nz
School Hours: M-F: 8:30am – 3pm
Inclusion 
We celebrate the inclusion of all key stakeholders: students, staff, community, local iwi, board of trustees, to create the new and exciting future for Waiau Area School. We acknowledge benefits of forming a positive working relationship with local iwi and the commitment we need to make to the principles of the Treaty of Waitangi.