Our Environment
Waiau Area School is a Year 1 to 13 co-educational, composite Area School located in Western Southland; 81km west of Invercargill. It is the only Area School in the Southland Region.
Location: 47 Orawia Road, Tuatapere, SOUTHLAND 962
Telephone: +64 3 226 6285
Email: admin@was.school.nz
School Hours: M-F: 8:50am – 3pm
Learn By Doing
At Waiau Area School we work hard to ensure that learning happens for all students, that learning is accurately measured, that evidence is gathered, and most importantly that students and their parents know where they are going next in their learning. Students relish the chance to experience success. It helps establish a desire to learn and builds important learning skills like persistence.
The staff of Waiau Area School have developed curriculum schemes from Year 1-13 that reflect the diverse needs of our students.
Reminder: It's a Teacher only day at WAS on 1st of December 2021. This is a Ministry of Education day for all staff professional learning & development.
Our Upcoming Events & Activities
Teacher only Day (TOD)
School Closed for Instruction
Wishing you all an awesome Summer Break!
See you in February 2022!
Waiau Area School (WAS) will return to Level 2 educational practice as of Thursday 09th September 2021. During this time, we will be operating under Level 2 guidelines and restrictions. Many of these restrictions and guidelines are mandated by the Ministry of Health...
read more
Last week WAS Junior classes had the amazing Janet De Wagt in school. Janet de Wagt is a New Zealand born artist who has lived and painted throughout the world. Her paintings reflect the New Zealand landscape she connects with and they are painted on site, in all...
read more
Live to LEARN, LEARN to Live
A Word
From Our Principal
Kia Ora everyone. I trust you have all had a restful and enjoyable break and that your children are enthusiastic about returning to school. Well, here we are starting 2021, and once again we have a busy year ahead of us. I just want to mention a few things to start us off on the right foot. We send out whole school newsletters every fortnight. Also teachers will send notes home, notices will be sent out by various staff and sometimes message will be posted on our FB page and website – please keep an eye out for happenings at WAS. If in doubt, ring the office and ask away. WAS is a busy place and sometimes we're guilty of assuming everyone knows what's happening as well as relying on students passing on messages etc. Keep us honest and keep checking in please!
A massive WAS welcome to our new students! It's a credit to these students and their respective families on how well they've settled in. It feels like you've all been at WAS for ages! 
I am looking forward to a fantastic year in 2021. We are going from strength to strength here at Waiau and you, as parents and caregivers play a vital role in our success. Thank you in advance for all that you will contribute this coming year.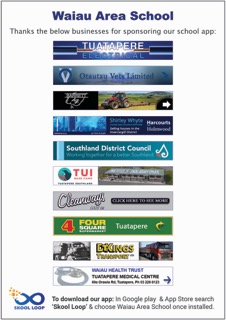 Get In Touch
Location: 47 Orawia Road, Tuatapere, Southland
Telephone: (03) 2266285
Email: admin@was.school.nz
School Hours: M-F: 8:30am – 3pm
Inclusion 
We celebrate the inclusion of all key stakeholders: students, staff, community, local iwi, board of trustees, to create the new and exciting future for Waiau Area School. We acknowledge benefits of forming a positive working relationship with local iwi and the commitment we need to make to the principles of the Treaty of Waitangi.